Entitled as such since apparently I have used Crafty Tuesday: The Return before.
For new folks who are reading a little explanation, a number of years ago I started writing about various projects I was working on and issues that affected the artistic community from my perspective.
I decided that Tuesday was going to be my day to devote to this since Monday tends to be the New Who Review when Doctor Who is on or Monday Morning Quarterbacking in which I talk about sports. Wednesday still is Conventional Wisdom when I get back to that.
So Crafty Tuesday is back.
And it is post Dragon Con so I can look back on a creative year and try to figure out what I might attempt before the next Dragon Con.
Currently I have four puppets in the que. Three are commissioned pieces that the people who have paid me have been saints about the deadlines but I want to have all of it done before the end of the year. There is one puppet that I want to get done in the next two days for reasons I can say probably Friday unless I can't then I can next Tuesday.
I have decided to build more girl puppets than boy puppets within the next year. Not sure if I am going to keep that promise but at least I am going to try. I looked back at what I have done and find that I tend to shy away from doing them so best way to get rid of that fear is to just do it. Also I found a splendid dress form that, with a little padding, will help me to be able to drape dresses properly.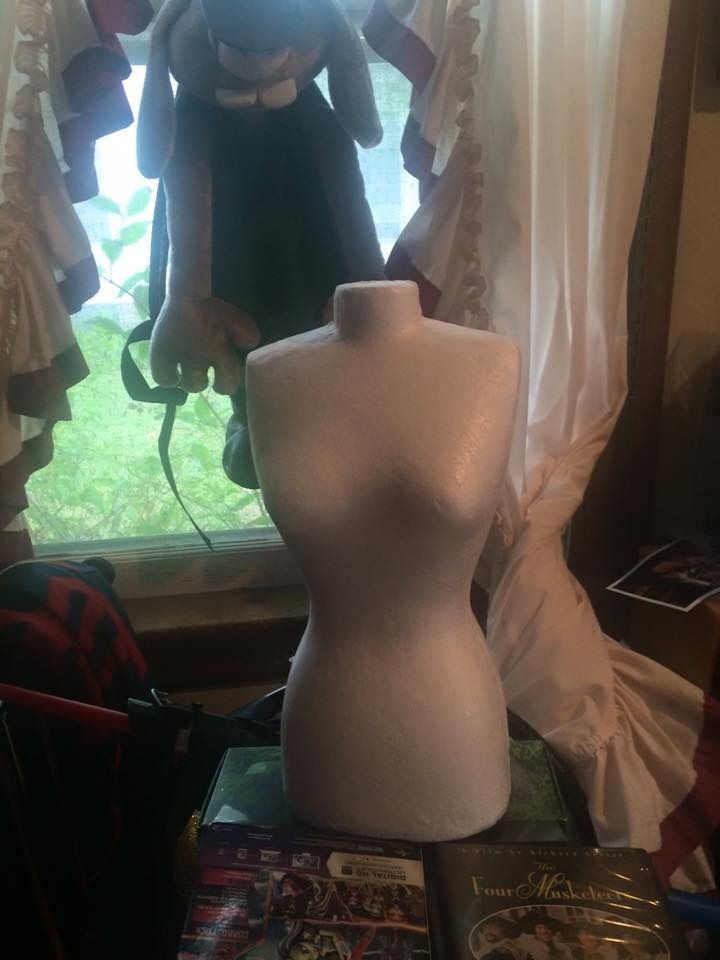 My new Puppet Dress form
(For the VI: This is a white Styrofoam female torso that looks like a dress makers form)
I found it at Joann's Fabrics in the Halloween area. Apparently there is this new thing about taking these forms and dressing them up. I am a little fuzzy how it is used in crafting but I am very sure this is going to make my life easier. I just have to pad out the middle a little for a true fit.
As for the past year, I didn't do as many shows as I would have liked including some I have done for years.
However my sales at Dragon Con were good so that's a plus in my column.
Next year I would like to show my puppets in at least four art shows if not a few more.
Oh, I have decided that Dragon Con is the end of my creative year rather than Dec. 31st because then I have a little less than a year to plan for the next Dragon Con. And because Dragon Con does more to get my creative hamster wheel spinning than anything else I do during the year.
That's a rough for the next twelve months. Let's see what I can get done.
I am grateful for the creative charge I get at Dragon Con.